Loan
PersonalLoanPro Review – The Top-Notch Personal Loan Broker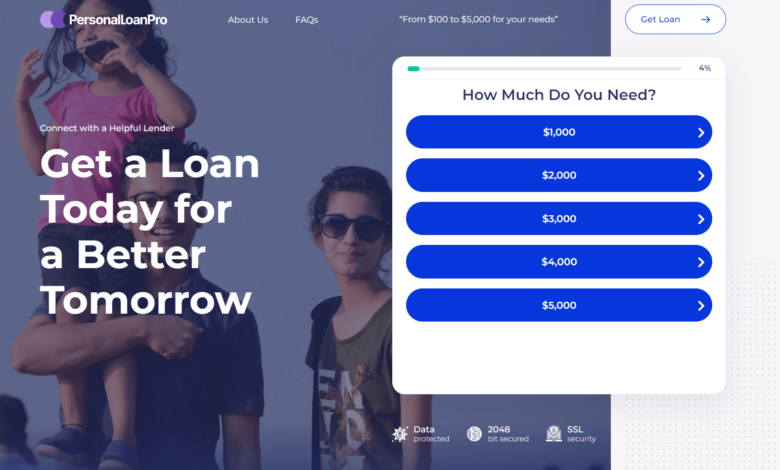 A bank is the first thing that comes to mind when considering getting a loan. However, a person must deal with several issues when applying for a bank loan. These issues involve wasting time, filling out unnecessary paperwork, and, finally, high demand for interest rates.
Aside from banks, we can find a trustworthy lender in the market, but this can be challenging. To prevent being taken advantage of by unscrupulous lenders, we must exercise extreme caution when selecting a lender. As a result, there is a requirement for a platform that connects users with reputable lenders without charging a dime.
PersonalLoanPro is undoubtedly the most preferred and remarkable working loan broker that offers complete customer protection. Based on your requirements and needs, you will be provided with a list of lenders from which to choose. So, let's find out more about this incredible platform and how it works.
Who is PersonalLoanPro
PersonalLoanPro is a personal loan platform that connects prospective borrowers with approved lenders from its extensive network. The website is a BBB-accredited business that has partnered with the industry's big names. PersonalLoanPro connects you with lenders; it is not a lender and does not make loans to its customers but instead connects them with lenders in its network.
The Pros & Cons of PersonalLoanPro
PersonalLoanPro, like everything else, has advantages and disadvantages. The pros and cons are as follows:
Pros
Strict data privacy regulations
Contact lenders directly
Quick service, thus saving time
Easy application procedure
Cons
Only citizens of the United States are eligible.
Some lenders have strict loan approval criteria.
It does not provide a 100 per cent guarantee of loan approval.
How Does PersonalLoanPro Work?
PersonalLoanPro matches you with loans based on your needs. You must complete a quick and free online application, which will only affect your credit score if you choose one of the borrowing options.
Your loan request is forwarded through the company's network of lenders, who will respond with any offers you qualify for. In this case, your credit score, loan amount, and repayment schedule influence your borrowing terms.
PersonalLoanPro has simplified the process with its simple user interface. After completing only one form on their website, your inquiry will be sent to their group of lenders. Your application will be reviewed by lenders, who will then decide whether to offer you a loan ranging from $100 to $5,000.
You can respond to the lenders in any way you see fit. Your next stop should be the lender's website, where you can review the loan terms, applicable rates, and conditions. If you accept the times, the lender wires the funds to your bank account within a day. PersonalLoanPro has simplified the procedure to make it easier to understand.
What Can You Use PersonalLoanPro for?
There are several reasons you want to get a PersonalLoanPro personal loan, some of which are more financially sound than others. Unique Loan Pro offers personal loans for a variety of reasons, including:
Debt consolidation
Combining old debts and high-interest credit cards with a low-interest personal loan from PersonalLoanPro can help you save money, especially if there is no origination fee.
Medical bills
Try to negotiate your medical bills and see if a no-interest instalment agreement is an option before taking out a personal loan from PersonalLoanPro. If none works, a personal loan can help you pay off your medical debt.
Home renovations and repairs
PersonalLoanPro can be used for remodeling projects, home improvements, or repairs such as installing new pipes or rewiring your home.
Unexpected expenses
Your emergency savings fund should cover unexpected expenses such as a family emergency or a costly car repair. However, if you do not have enough cash to protect it, PersonalLoanPro may help you get through a difficult financial situation.
Large purchases
When you don't have the cash upfront to purchase a new computer, appliance, mattress, or other items, PersonalLoanPro can assist you. You can then repay the loan in small instalments over time.
Moving costs
Moving to a new home can cost thousands of dollars, especially driving long distances. If you don't have cash, consider getting a personal loan from PersonalLoanPro to cover your moving costs.
Travel arrangements
If you plan a trip but need more funds, your trip may be postponed. You can quickly get the funds you need from PersonalLoanPro to organize your travel and other arrangements for your dream holiday for travel arrangements.
Vehicle Financing
Auto loans are a better option for financing a car than personal loans because they typically have lower interest rates. However, some people prefer a personal loan because they usually do not require a down payment or collateral.
Tax debt
An IRS instalment agreement may allow you to pay your tax bill in instalments. To determine the best option for your loan's interest rate and fees, compare them to the interest and penalties you'd accrue under an IRS instalment plan.
Conclusion
PersonalLoanPro is a well-known company that is a go-between for reputable lenders and people needing loans ranging from $100 to $5,000. It has over so many customers.
If you are approved for a loan, the company is BBB-accredited, has a firm privacy policy, and transfers funds to your account in 1-2 business days. The terms are negotiated to help the client get benefits as much as possible, and you can solve your financial problems with peace of mind, knowing that these personal loans will not affect your credit score in any way.